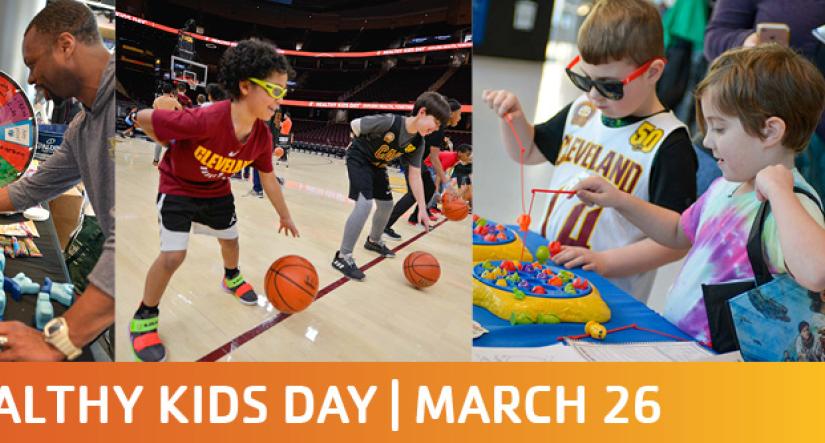 Mission Moment: Healthy Kids Day, March 26, Rock Mortgage Field House 
A tummy full of healthy food. A cup of physical activity. A tablespoon of laughter. A pinch of curiosity. And a dash of fun! That's the recipe for the YMCA's Healthy Kids Day, which provides all the ingredients for developing healthy, resilient kids. Mark your calendars now for this free, fun event at Rocket Mortgage Fieldhouse on March 26.
 We are committed to nurturing the potential of every child and teen. From cradle to career, the Y empowers young people to lead inspired, successful lives. A part of that commitment is Healthy Kids Day®, the Y's national initiative to improve families' health and well-being. One in three children in the U.S. is obese, and when summertime hits, kids are often more idle. Research shows that kids fall behind academically and gain weight twice as fast without access to out-of-school physical and learning activities.
Here in Cleveland, Healthy Kids Day brings more than 4,500 children and their parents together at Rocket Mortgage Fieldhouse for games, fun activities and, for our Junior Cavs participants, some time on the same court the Cleveland Cavaliers compete on for their games! There will be kids' fitness classes, dancing, sports skills clinics, arts and crafts and other enrichment activities.
Many organizations that provide services of all kinds for children and families will be on-hand to join in the fun and offer educational opportunities for all.
If your company or business is interested in sponsoring Healthy Kids Day, please contact Beth Darmstadter at bdarmstadter@clevelandymca.org.
We look forward to seeing you on March 26!